< BACK
Ypres 10-11 November 2023
Representatives of the Walk of Peace Foundation, the Kobarid Museum, the Historical Institute of Milko Kos at ZRC SAZU, the Military Heritage Administration (Ministry of Defence of the Republic of Slovenia), the Institute for the Protection of the Cultural Heritage of Slovenia (ZVKDS) and the European Association for Territorial Cooperation of the Municipalities of Nova Gorica, Šempeter, Gorizia/Gorica on November 10 and 11, they took part in an international expert consultation and a tour of good practice at the In Flanders Fields Museum in Ypres (Belgium).
In Flanders Fields Museum is the central World War I museum in Belgium in the field of research, education, conservation, management and promotion of  World War I heritage and very well embedded in local, provincial, national and international cooperation. The central part of the meeting was devoted to the discussion and exchange of information and experience in the field of nomination of the heritage of the First World War to the UNESCO list. This heritage in Belgium and France has entered the UNESCO World Heritage List in September, which is a great opportunity for the heritage in Slovenia, which is already on the UNESCO Tentative List, and other important monuments from this period in other countries.
In addition to Petra Svoljšak from ZRC SAZU, Maša Klavora from the Walk of Peace Foundation, Matjaž Ravbar from Ministry of Defence, Ernesta Drole from ZVKDS, the director of the museum Stephen Lodewyck and his colleagues, the head of the Belgian heritage entry on the UNESCO list Piet Geleyns and online participated in the conversation also the director of directorate for cultural heritage of the Ministry of Culture and head of the nomination of the heritage of works of the architect Jože Plečnik in Slovenia to the UNESCO list, Špela Spanžel. The meeting ended with the exchange of information on the applied EU projects (Central Europe, Slovenia–Italy, Alpine Space) with the aim of establishing the European Walk of Peace and in which also Soča Region Development Centre participates.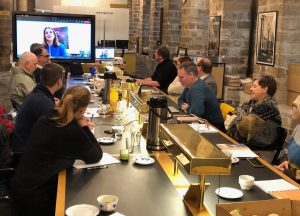 The central expert meeting was followed by an interesting conversation about military cemeteries research and the personal stories and objects of soldiers, as well as a guided tour of the entire museum with an emphasis on their current temporary exhibition For Evermore, which presents in a very interesting, interactive way the many and extraordinary military cemeteries in this area of the western front. The international professional meeting ended with participation in several commemorative ceremonies, which took place those days at various locations around Ypres and at the central international commemorative ceremony on 11 November 2023 on the 105th anniversary of the end of the First World War, which, in addition to crowds of locals and visitors from near and far were also attended by the Belgian Prime Minister and representatives of other countries.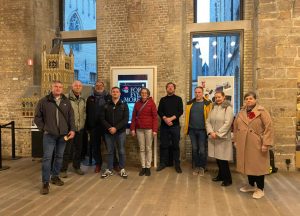 Photos: Fundacija Poti miru