< BACK
Mt. Sveta Gora and the Underground Labyrinth on Mt. Vodice
9 October at 9:00 a.m.
After Italy had declared war on Austria-Hungary, the popular pilgri­mage basilica on Mt. Sveta Gora (681 m) was in the direct vicinity of the front line that ran across the neighbouring Mt. Sabotin. During the fights on the Isonzo Front the basilica was completely destroyed.
The guided tour starts on Sveta Gora, which offers splendid views over the wider surroundings, and the possibility to visit Basilica of St. Mary and the St. Mary's Museum. The Walk of Peace trail then takes us to Mt. Vodice, situated in the southwest part of the Banjška planota plateau. It affords a splendid view over the nearby Mt. Sveta Gora, its neighbour, Mt. Sabotin, and all the way to the Adriatic. Located on the top is the mausoleum of General Maurizio Ferrante Gonzaga and a monument for the three alpini battalions, Monte Levana, Aosta, and Val Toce, who conquered the north-western part of Mt.Vodice on 18 May 1917. Also interesting to see is a multi-storey cave, a real maze consisting of numerous preserved trenches. After visiting the Outdoor Museum Vodice, we shall return to the starting point.
Assembly point: parking area under the pilgrimage basilica on Sveta Gora
Difficulty: easy
Duration of the guided tour: 5 hrs
Equipment: trekking clothing and footwear, trekking poles, food and drinks from backpack, flashlight
Price: 15 €/person

Prior registration required by Saturday, 8 October at 2:00 p.m. at +386 31 586 296 or info@thewalkofpeace.com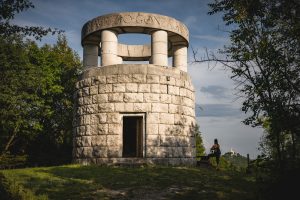 Photos: Damijan Simčič, TIC Kanal; Matevž Lenarčič, Fundacija Poti miru; Schirra/Giraldi, PromoTurismoFVG