< BACK
Brda's Circle of Peace Thematic Path
15 October at 10:00 a.m.
11,5 kilometres long circular thematic path Brda's Circle of Peace which leads past the remains of World War I and breath-taking views brings you to the Outdoor Museum Sabotin – The Park of Peace.
Almost each stone in the Mt. Sabotin Park of Peace could tell a story about the Austro-Hungarian and Italian soldiers, fortifying their battle positions. During World War I the mountain was drilled from all sides and crisscrossed by galleries, trenches and caves. Due to its strategic position over the River Soča it was first an important Austro-Hungarian bridgehead on the right bank, but in the Sixth Isonzo Battle in August 1916 it was conquered, together with Gorizia/Gorica, by the Italian Army. The ascent up Mt. Sabotin is rewarded by a panoramic view of the Vipava Valley and the Brda/Collio Hills, to the Kras, the Friuli Lowland and the Julian Alps. The facilities of the former border guard post at Sabotin host an innovative multimedia visitor centre. The centre comprises a museum, info point and numerous remains, which make it an important stop along the Walk of Peace from the Alps to the Adriatic trail. The nearby snack-bar offering the tasty local jota stew and other delicacies.
Assembly point: parking area by the concrete pyramids at the beginning of the road for Mt. Sabotin (From the road Gonjače–Vrhovlje pri Kojskem turn right for Sabotin. Parking area is on the right by the stone blocks).
Difficulty: easy
Duration of the guided tour: 7–8 hrs
Equipment: trekking clothing and footwear, trekking poles, drinks from backpack, flashlight
Price: 20 €/person (lunch is included in the price)
Prior registration required by Friday, 14 October at 12:00 o'clock (noon) at +386 31 586 296 or info@thewalkofpeace.com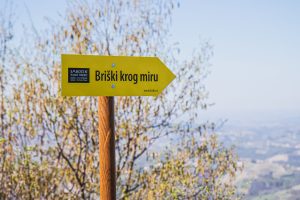 Photos: Mateja Pelikan, MONG; Fundacija Poti miru; Damijan Simčič, TIC Brda; Matevž Lenarčič, Fundacija Poti miru; Damijan Simčič, TIC Brda