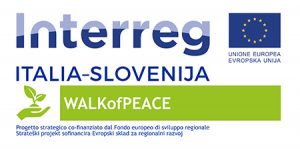 Lead partner: Posoški razvojni center
Project partners:
PP2: Regione del Veneto
PP3: Ustanova "Fundacija Poti miru v Posočju" (conceptual leader)
PP4: Associazione GAL VENEZIA ORIENTALE
PP5: Znanstvenoraziskovalni center Slovenske akademije znanosti in umetnosti
PP6: PromoTurismoFVG
PP7: Mestna Občina Nova Gorica
PP8: ERPAC – Ente Regionale per il PAtrimonio Culturale della Regione Autonoma Friuli Venezia Giulia
PP9: Javni zavod ‒ Park vojaške zgodovine Pivka
PP10: Comune di Ragogna
Project description:
A special feature of the programme area―which includes the statistical regions of Primorska-Notranjska, Central Slovenia, Gorenjska, Coast-Kras, Goriška as well as the provinces of Udine, Gorizia, Trieste, Pordenone and Venice―lies in the presence of the First World War heritage. The heritage has a remarkable historical significance, but it is poorly preserved at some places, and its potential for tourism development has not been properly exploited. The WALKofPEACE project will help to change the current state through joint transborder activities for a long-term preservation of the First World War heritage and consolidation of its use for the development of sustainable cultural tourism. Study activities will be done, and organized will be new exhibitions, cultural events and commemorations to heighten the general knowledge and awareness of the First World War heritage. Organized will be activities of targeted education and networking for tourist guides, providers, organizations, and other stakeholders, intended to encourage the development of a new tourist offer. To enhance the joint promotion and marketing of the heritage of the First World War, the umbrella destination brand "Walk of Peace" will be introduced with guidelines for marketing, and prepared will be a website and other promotional materials. Upgraded and arranged will be historical routes, information points and centres with innovative and interactive presentations of the heritage. Small-value investments will be intended for preservation of the First World War heritage of extra importance.
The webpage www.thewalkofpeace.com was done through the WALKofPEACE project, which is supported by the Interreg V-A Italy‒Slovenia programme, funded by the European Regional Development Fund.
Project duration:  1 November 2018 through 30 June 2022
Project value: 2,893,176 EUR
Further info:
Maša Klavora
+386 5 389 0167
masa.klavora@potmiru.si
More about the project:
https://www.ita-slo.eu/en/walkofpeace
Project Newsletters:
Newsletter 1, Newsletter 2, Newsletter 3, Newsletter 4, Newsletter 5, Newsletter 6, Newsletter 7