Exhibition authored by: Roberto Todero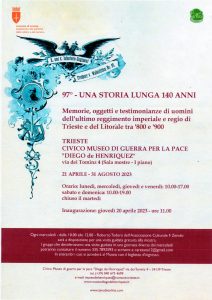 Pula, Trieste, Galicia, Russia, Odessa. Five places that remind – in an immense space, but for a relatively short time – the stories and destinies of tens of thousands of our fellow citizens from 140 years ago.
1883, Pula: it was in that city that the 97th Imperial and Royal Regiment was established. Since its establishment, however, the headquarters of the complementary district was in Trieste. Here arrived in 1898 also the four battalions that formed the regiment, and here they remained with just a very brief interlude in Belovar between 1913 and 1914, the fatal year. The 97th was the Triester Hausregiment, the home regiment, the one in which fathers first and sons later would serve.
Galicia: one of the mythical places, a historical region that no longer bears this name, almost a non-place. A non-place to return to, as we did in 2014 on a trip in search of cemeteries and regimental sites. One participant wrote; and I thought that sooner or later I would cross paths with him in the same places where he had wandered, I would cross paths with him… this was a great desire of mine;s why I came here and so I think I was close to him and I was very excited about it… to see especially the famous number 97 on some graves of which I pulled down all the names… I will write a list and keep them all together with my grandfather's name. The Galician experience includes places that are unfortunately known even today for episodes of war and refugees: Lemberg/Lwów/Lviv, Rawa Ruska, Grodek, the Dukla pass in the Carpathians, Przemysl, which at the beginning of this new absurd war saw refugees thronging the historic station again, the same way as 109 years ago.
Old Russia: immense but known from Siberia to Turkestan an experience of suffering for thousands of soldiers who fell into captivity. For them only difficult returns, or new families and then new abandonments.
And finally, Odessa, where the regiment arrived after the Treaty of Brest-Litovsk and whose port was headed for a time by an officer of the 97th. Odessa, the place where the regiment was disbanded and its troops split up, separated by language groups. Some wanted to fight again to defend new borders or dream of new conquests. Others undertook the long return journey that for many ended beside a railway track. Still others incredibly chose to return on foot. Back to where? More than a return it was a going towards newly born countries, a new homeland that would welcome them with suspicion and new prison camps. Re-education, they said.
Some 25,000 of our fellow countrymen served in the army between 1883 and 1913. An estimated 60,000 were mobilised between 1914 and 1918. We do not even know how many did not return.
This exhibition, the first one after 140 years, is dedicated to all of them.
Text & photo: Roberto Todero